DATAEAGLE Condition Monitoring System
The DATAEAGLE Condition Monitoring System is optimally suited for the monitoring of motors and machines in the industry. The aim is to provide remote condition monitoring that is easy and fast  to implement in the sense of Industry 4.0.
The system consists of a small multi-sensor (CISS) suitable for harsh industrial environments, a global IoT-Gateway (DATAEAGLE 2730) with integrated  eSIM-card and a cloud dashboard (DATAEAGLE portal). The robust CISS sensor from Bosch can  be mounted directly onto the engine or the machine and transmits the data via Bluetooth Low Energy to the central IoT Gateway DATAEAGLE 2730.There, the values from up to 8 sensors can be received simultaneously. These are then pre-processed and transferred to a cloud portal at intervals.
The data i s then stored in the DATAEAGLE Portal in order to display the sensor values and analyse long-term effects. The transmission interval of the sensor values to the cloud depends on the operating mode and is optionally also alarm-controlled.
Condition Monitoring System: Applications
The DATAEAGLE Condition Monitoring System can be used as original equipment or as a retrofit solution for existing plants. Thereby the following inertial and environmental sensors are used: acceleration, gyroscope, magnetometer, digital light, pressure, microphone, temperature and humidity. The values are transferred periodically into the cloud. Optionally, alarms can be set for individual sensors.
Video: Installation DATAEAGLE Condition Monitoring System
Video SPS 2019: DATAEAGLE Condition Monitoring System
DATAEAGLE Condition Monitoring System: IoT ready-to-use.
Operation mode selectable depending on the transmission interval:
Ready-to-use condition monitoring system, for motors, pumps, machines etc. Operational Worldwide with integrated eSIM card and 3G-radio
Can be flexibly switched off and reactivated at any time
Visualisation of the sensor values in the DATAEAGLE portal
Historical data to monitor the long-term condition of the systems
Annual billing, no automatic renewal
Write to us – we will be happy to call you back and answer all your questions about our products.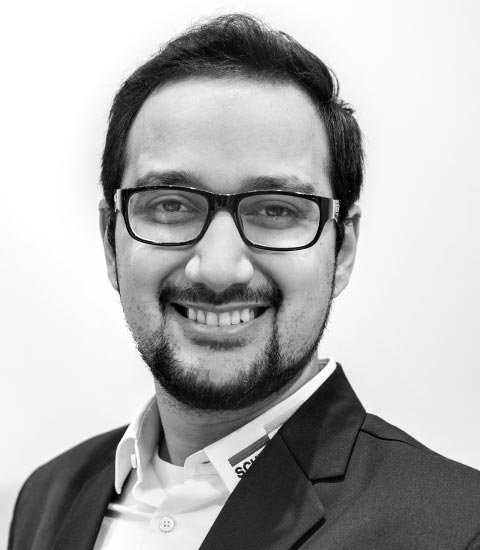 Zubair Khan
Industrial Wireless Expert
If you have any questions about our products, please do not hesitate to contact me.
Schildknecht AG - Datenfunksysteme