DATAEAGLE 3712 und DATAEAGLE 4712 Wireless PROFISAFE
Our product line DATAEAGLE 3712 and DATAEAGLE 4712 – Wireless PROFISAFE was specially developed for the transparent transmission of PROFIsafe using radio technologies like Bluetooh. The use of our patented filter technology guarantees a highly available and reliable radio connection, especially for wireless PROFIsafe applications. Experience yourself!
Wireless PROFISAFE in practice
Sensor and application data are usually transferred from machines at the field level to a controller for use. If this is to take place wirelessly in view of moving parts, e.g. in sewage treatment plants or cranes, radio links are used that are aligned with the respective fieldbus: The modules of the DATAEAGLE 3000 series/ 4000 series "speak and understand" PROFIBUS with support from PROFIsafe. The patented data pre-processing including filter function ensures particularly high system availability.
Wireless PROFISAFE – Product features
Wireless PROFIsafe kann über PROFIBUS oder PROFINET jeweils mit DATAEAGLE 3000 oder 4000 übertragen werden. Für die Übertragung kommen unterschiedliche Funktechnologien, meistens Bluetooth 2,4 GHz oder 869 / 915 MHz im lizenzierten Band zum Einsatz. Somit eignen sich alle Systeme mit PROFIBUS DP oder PROFINET IO-Schnittstelle für eine Funkstrecke. Die Lösung funktioniert ganz einfach wie ein Kabelersatz: Plug&Play.
Portfolio Wireless PROFIsafe for PROFIBUS and PROFINET
Write to us – we will be happy to call you back and to answer all your questions about our products.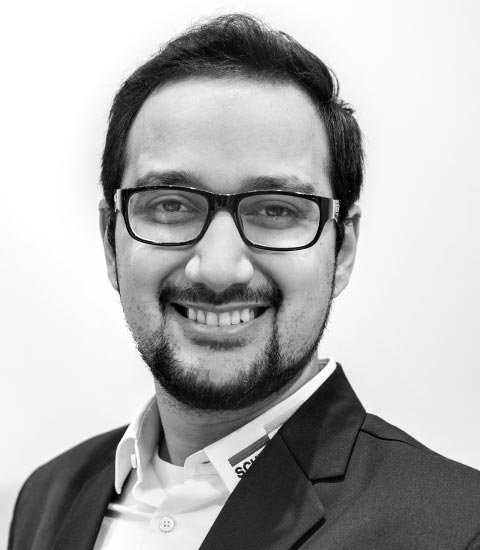 Zubair Khan
Industrial Wireless Expert
If you have any questions about our products, please do not hesitate to contact me.
Schildknecht AG - Datenfunksysteme