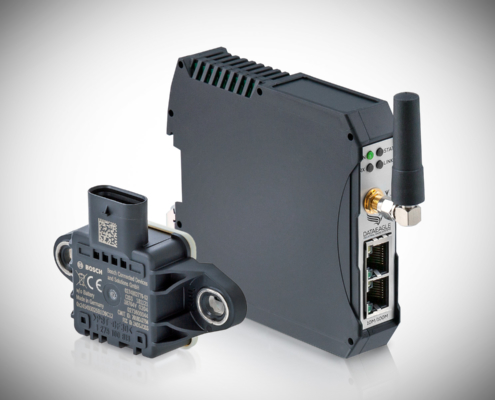 Produktneuheit zur Sensor+Test 2020
IoT-Ready-to-use system for condition monitoring
Process and monitor sensor data directly in the PLC.
Condition Monitoring (CM) is a "preventive examination" for machines and systems an offers many industries considerable possibilities for production and quality assurance. More and more sensors collect critical operating data, with the help of which machines and systems can be kept "healthy" for longer or sent to a health resort in good time. A prerequisite, however, is that the sensor data can be quickly and reliably transmitted via a continuous data path to the point where a critical evaluation can be made and appropriate measures can be initiated if necessary. This central location is often the control system!
Sending CM sensor data directly to the controller
A data path always begins at the increasingly wireless (via Bluetooth) signal output of the respective sensor and ends at different receivers: This is often the smartphones or tablets of the operating personnel, who could then react accordingly. Today, however, users increasingly expect direct communication with the controller: The sensor data should be able to be used immediately by the controller for appropriate reactions!
Suitable for new and existing installations
In order to enable customers to implement the system quickly, Schildknecht AG follows the IoT-ready-to-use approach: a ready-to-use system for condition monitoring. The DATAEAGLE Condition Monitoring System fieldbus is the result. The system consists of a small multi-sensor for harsh industrial environments (CISS) and the worldwide operational wireless sensor gateway (DATAEAGLE 2730) with integrated fieldbus interface for controls from various manufacturers. The small and particularly robust multi-sensor acquires 8 measured variables (temperature, acceleration, humidity, noise, etc.) and makes these measured data available to the controller via Bluetooth every second. This DATAEAGLE CMS system enables the use in very different applications both in new systems with e.g. Profinet or by retrofitting e.g. the countless Profibus-based stand-alone systems. In this way, the above-mentioned "preventive examination" can also be combined with an immediate therapy for older "patients".
For all users who prefer to have a dashboard in the cloud, the DATAEAGLE Condition Monitoring System Cloud with integrated worldwide mobile connectivity is already available, ready to use of course!
On 08.09.2020 you can get to know the DATAEAGLE Condition Monitoring System live in a practical user workshop. The workshop takes place within the scope of the Automatisierungstreff in Böblingen, Germany. Register here!
Download Press Release here
DATAEAGLE Condition Monitoring System Fieldbus
More Information about the Condition Monitoring System on the product page.