Here you find all about
Isotropic Radiator
.
The isotropic radiator is a theoretical concept used for calculating antenna gain. An isotropic radiator emitting transmission energy uniformly in all directions has no antenna gain (0 dBi or 0 dBd). Omnidirectional antennas radiate transmission energy horizontally in a 360° radius, while less than 360° on a vertical axis. This means for instance that the antenna item number 10926 has an antenna gain of 2,5 dB.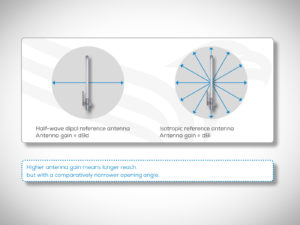 Isotropic Radiator bei der Schildknecht AG
Schreiben Sie uns – Wir rufen Sie auch gerne zurück! Wir beantworten Ihnen gerne alle Fragen zu Isotropic Radiator oder eines unsere Datenfunkmodulen.