WIRELESS SENSOR CLOUD GATEWAY
Connecting wireless sensors to the cloud
We have developed a gateway that enables you to transmit sensor data via mobile radio to the cloud. The wireless sensor-to-cloud gateway DATAEAGLE compact 2730 cloud picks up sensor data through its Bluetooth Low Energy interface. After pre-processing the data the gateway transmits it via mobile radio to the cloud.
Operating with a globally applicable eSIM card the DATAEAGLE compact 2730 cloud enables you to network sensors, machinery and production facilities on a global scale. This opens up a range of new application areas, like analysing data in real-time or remote monitoring of facilities and buildings to predict component fatigue.
The wireless sensor-to-cloud connectivity provided by the DATAEAGLE compact 2730 cloud gives you the opportunity to develop new business models by helping your customers to refine their services, improve their products or reduce operating costs.
The gateway itself is designed for cost-effective operation: it pre-processes and minimizes the sensor data it receives to lower transmission costs, sending data at a flat rate, regardless of its location. To secure optimal global operability we have chosen mobile radio, a solution that offers the highest network coverage globally, together with simple and precise billing.
Adding to the versatility of the DATAEAGLE compact 2730 cloud we offer numerous options, like 2G, 3G, 4G, LoRA or MeshNetwork. And the gateway comes with an online portal (Device Cloud) that enables you to manage devices and forward data through an API interface to the cloud or to an ERP system.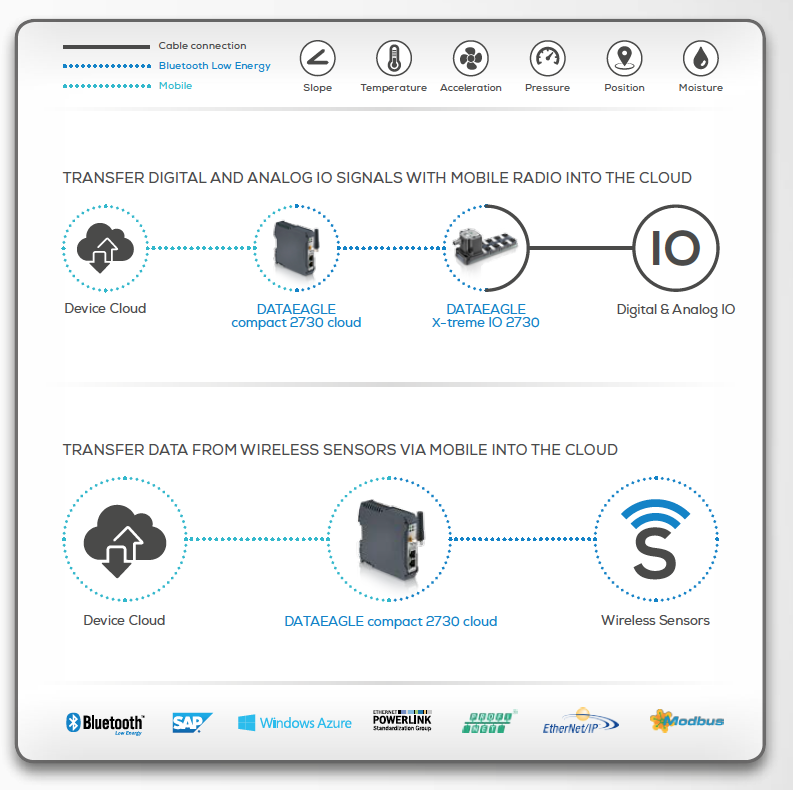 DATAEAGLE Compact 2730 cloud
Transmitting machine and sensor data to the cloud
PlugPlay: all sensors with Bluetooth Low Energy interface can be used

Flexibility: the respective sensor protocol applied can be parameterized individually

Wireless Sensor Network: simultaneous data exchange with up to eight IO radio distribution boxes using a gateway

Ready for operation throughout the world: it can directly gather sensor data in more than 130 countries due to the global eSIM card applied

Device Cloud: all sensors can be monitored and managed in the online portal at a glance as well as interfaces to other cloud portals established via RESTful API.
DATAEAGLE X-treme IO 2730
Bluetooth Low Energy interface for sensors
Plug & Play: with Wireless Sensor Gateway DATAEAGLE compact 2730 cloud

High protection class: IP67 enables application directly in the field near sensors

Integrated antenna
4 or 8 M12 ports

High range: Safe data transmission via up to 70 meters

Bluetooth Low Energy
Get in touch!
Wireless sensor-to-cloud gateway solutions
Are you looking for a cloud connection to your sensors? Leave us a message and we will consult you regarding your individual project.

You might also be interested in the following articles and products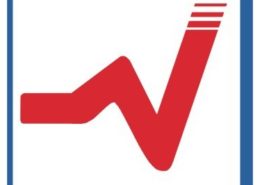 We would like to invite you to visit us at this year's Sensor+Test. Under the motto #theworldiswireless Schildknecht AG – as an expert in the field of radio solutions – will present the latest products, trends and projects in automation technology. Moreover, you can expect a further product innovation in the field of sensor coupling and wireless IO systems!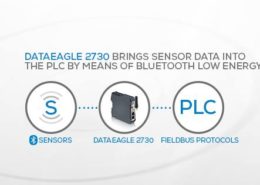 The DATAEAGLE wireless sensor gateway – sending data from Bluetooth Low Energy sensors to the control unit.
Team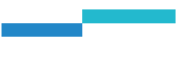 Schildknecht AG
Haugweg 26
71711 Murr
Tel. +49 7144 89718-0
Mail: info@schildknecht.ag
Web: www.schildknecht.ag