WIRELESS MESH-NETWORK SENSOR GATEWAY
large sensor networks with numerous radio nodes and long range
Wireless Mesh networks can transmit data via as many as 1.000 radio nodes. A unique feature of this technology is that the network is self forming and capable of changing over time.
Unlike WirelessHART the Mesh network protocol ensures complete independence from a central network manager. The manager is replaced by intelligent nodes capable of linking to one another in one single autonomous Mesh network creating a complete eco-system that works no matter how big it gets.
The distributed intelligence of the autonomous nodes allows for flexible and dynamic network topologies, and networks to be deployed quickly, even in the most challenging environments.
The network consists of sensors integrated with battery-powered radio modules, sending data to the DATAEAGLE compact 2M10 gateway. The gateway then pre-processes the data and forwards it to the control unit via various fieldbus protocols. You can even channel data from cabled sensors into the network by adding the IO distribution box DATEAGLE X-treme IO 2730 to the mix.
For transmission the network utilizes a specific Mesh-capable radio technology based on 868 MHz or 2,4 GHz. This radio technology is well suited to work as a direct radio interface for sensors, as these are optimized for long range and low energy consumption. Also, you can assign up to 128 nodes to not only transmit, but to receive data as well.
Furthermore, you can connect the wireless Mesh network to the cloud. Doing that, data can be accessed through an online portal (Device Cloud), and forwarded to a Data Cloud or a customer portal.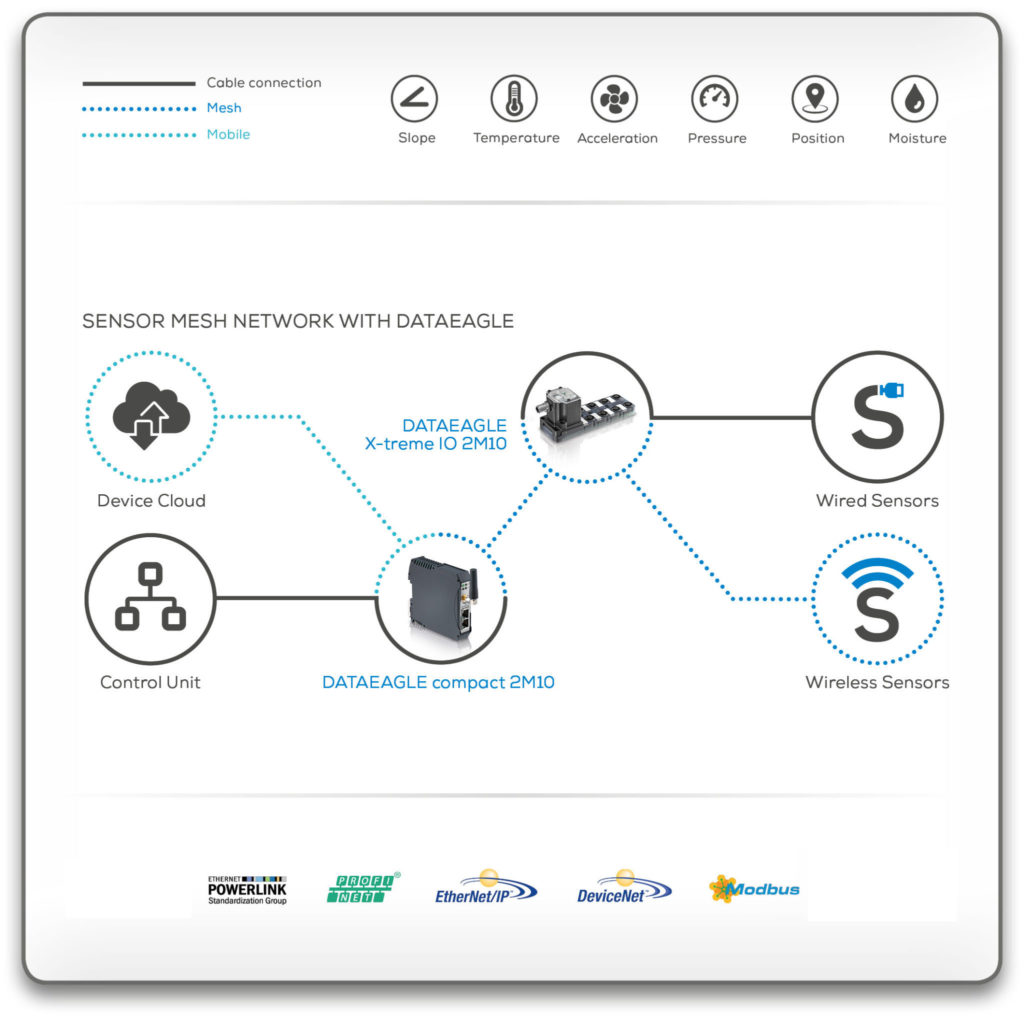 DATAEAGLE compact 2M10
Integrating Wireless Mesh Networks of sensors into the control unit or cloud.
Wireless Sensor Mesh Network: up to 128 radio nodes can be integrated as a wireless sensor or Dataeagle X-treme IO 2M10

High radio  data transmission range: between two radio nodes up to 70m.

Low energy consumption: Radio technology is suitable for being integrated in wireless sensors.

Integration into the control unit: all common Ethernet-based fieldbuses are integrated in the Gateway DATAEAGLE compact 2M10 as an interface.

Ready for operation throughout the world: it can directly gather sensor data in more than 130 countries due to the global eSIM card applied

Device Cloud: all sensors can be monitored and managed in the online portal at a glance as well as interfaces to other cloud portals established via RESTful API.
DATAEAGLE X-treme IO 2M10
Radio Mesh interface for sensors
Plug & Play: with Wireless Sensor Gateway DATAEAGLE compact 2730 cloud

High protection class: IP67 enables application directly in the field near sensors

Integrated antenna
4 or 8 M12 ports

High range: Safe data transmission via up to 70 meters

Mesh Radio technology: 868 MHz oder 2.4 GHz
Get in touch!
Transmit sensor data from wireless mesh-networks directly into the control unit or cloud.
Are you looking for a cloud connection to your wireless sensor mesh-networks or even building them in your plant? Leave us a message and we will consult you regarding your individual project.

You might also be interested in the following articles and products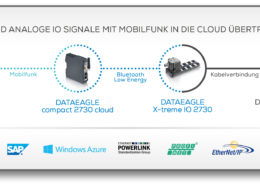 The perfect wireless system for sensor manufacturers, machine manufacturers and end customers – Make your sensor wireless: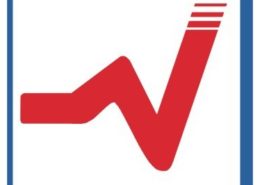 We invite you to visit us at the Sensor+Test exhibition this year. Find out more about what we will be presenting…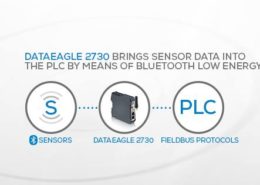 Bisher ist die meistgenutzte Anwendung für Bluetooth die Verbindung zu einem Smartphone, Tablet oder PC. In der Steuerungs- und Automatisierungstechnik steigt jedoch die Nachfrage, drahtlos Daten von Bluetooth-Sensoren in die Steuerung zu übertragen.
Team
Mehr zum Thema Wireless Mesh Network: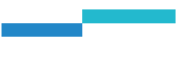 Schildknecht AG
Haugweg 26
71711 Murr
Tel. +49 7144 89718-0
Mail: info@schildknecht.ag
Web: www.schildknecht.ag