WIRELESS MESH NETWORK SENSOR GATEWAY
Sensor networks with many radio nodes and high range
Mesh radio networks are capable of transmitting data via up to 1000 radio nodes within the network. The particularity here is self-organization of the routing distance: in contrast to WirelessHART, no additional coordinator is required here. Special radio modules, integrated in sensors, enable wireless sensor-mesh networks. The gateway DATAEAGLE compact 2M10 receives this data wireless from a network consisting of many different sensors, processes data and then forwards it to the control unit via different fieldbus protocols. For wired sensors it is possible to integrate them via the IO radio distribution box DATAEAGLE X-treme IO 2M10.
As transmission technology, a special mesh-capable radio technology based on 868MHz or 2.4 GHz is applied. This radio technology is also excellently suitable as a direct radio interface for sensors since they are optimized for low energy consumption and a high range. It is possible to integrate up to 128 radio nodes.
As an option, this system can also be linked with the cloud. Data is available in a central online portal (Device Cloud) then from where it can be transmitted into a data cloud or a customer portal.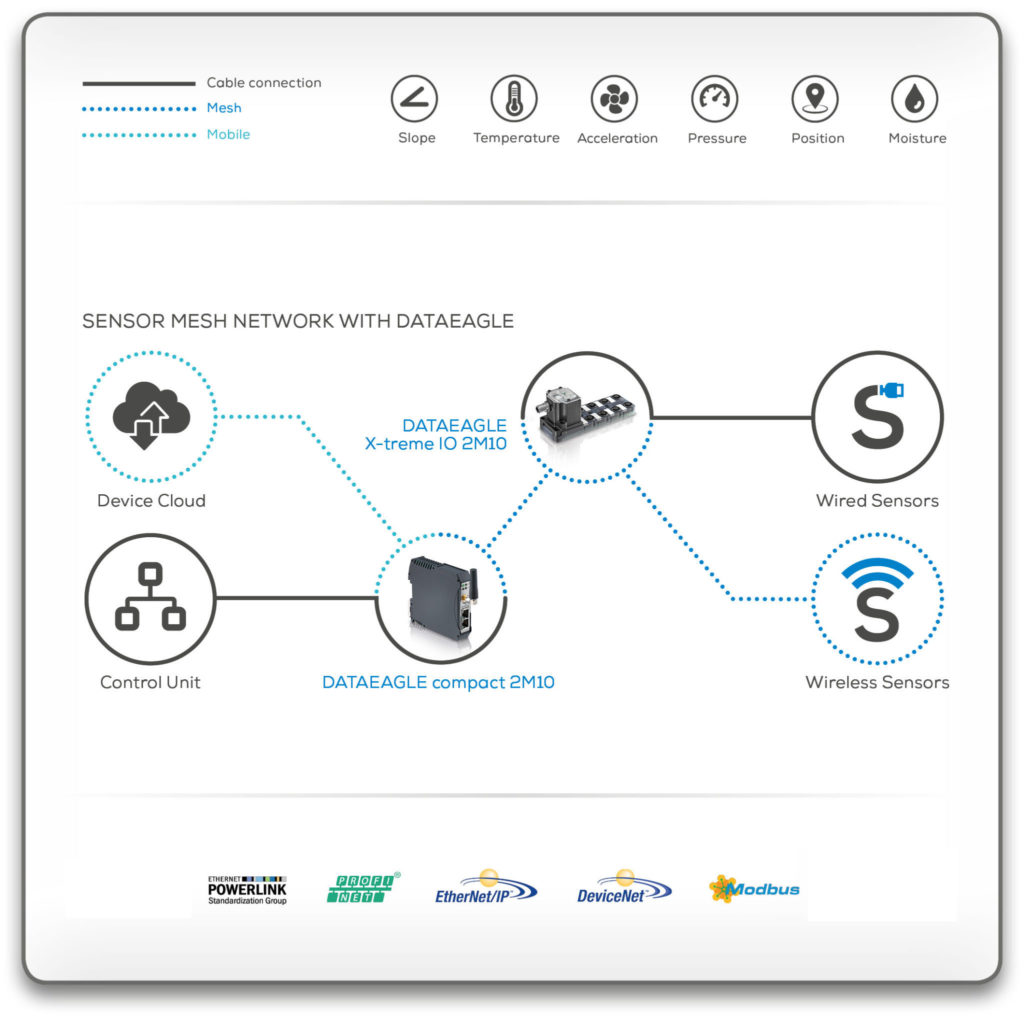 DATAEAGLE compact 2M10
Integrating Wireless Mesh Networks of sensors into the control unit or cloud.
Wireless Sensor Mesh Network: up to 128 radio nodes can be integrated as a wireless sensor or Dataeagle X-treme IO 2M10

High radio data transmission range: between two radio nodes up to 70m.

Low energy consumption: Radio technology is suitable for being integrated in wireless sensors.

Platzsparend: IP 20 für den Einbau in den Schaltschrank

Integration into the control unit: all common Ethernet-based fieldbuses are integrated in the Gateway DATAEAGLE compact 2M10 as an interface.

Ready for operation throughout the world: it can directly gather sensor data in more than 130 countries due to the global eSIM card applied

Device Cloud: all sensors can be monitored and managed in the online portal at a glance as well as interfaces to other cloud portals established via RESTful API.
DATAEAGLE X-treme IO 2M10
Radio Mesh interface for sensors
Plug & Play: with Wireless Sensor Gateway DATAEAGLE compact 2730 cloud

High protection class: IP67 enables application directly in the field near sensors

Integrated antenna
4 or 8 M12 ports

High range: Safe data transmission via up to 70 meters

Mesh Radio technology: 868 MHz oder 2.4 GHz
Get in touch!
Transmit sensor data from wiireless mesh networks directly into the control unit or cloud.
Are you looking for a cloud connection to your sensor mesh Networks or even building them in your plant? Leave us a message and we will consult you regarding your individual project.

You might also be interested in the following articles and products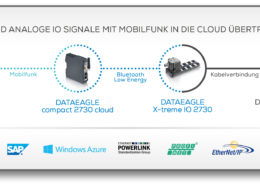 The perfect wireless system for sensor manufacturers, machine manufacturers and end customers – Make your sensor wireless: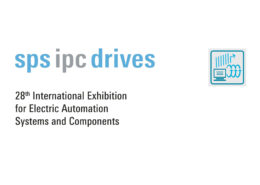 Wir laden Sie herzlich ein, uns auf der diesjährigen sps ipc drives zu besuchen. Unter dem Motto #theworldiswireless stellt die Schildknecht AG – als Experte im Bereich Funklösungen – die neusten Produkte, Trends und Projekte in der Automatisierungstechnik vor.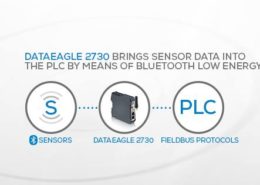 Bisher ist die meistgenutzte Anwendung für Bluetooth die Verbindung zu einem Smartphone, Tablet oder PC. In der Steuerungs- und Automatisierungstechnik steigt jedoch die Nachfrage, drahtlos Daten von Bluetooth-Sensoren in die Steuerung zu übertragen.