Stahl CraneSystems: Global monitoring of lifting technology
Industry 4.0 solution for cranes and hoists, also suited for retrofit
Remote Monitoring of Cranes and Hoists
It is hard to imagine any industrial manufacturing without cranes and hoists to transport raw materials, goods, or equipment. Today, with the rise of Industry 4.0, these cranes, operating in a wide range of industries, can connect to the people responsible for them. This is of interest to suppliers and operators of cranes and hoists, as well as to service and maintenance personnel. They all can benefit from monitoring important operational parameters of these machines and their control units in close-to real-time. The goal of this preventive maintenance is to ensure that engines, brakes, wire rope hoists etc. are running smoothly, for maximum machine availability, and for enhanced operational and occupational safety.
Challenges: Reliable connectivity and a complex value chain
Cranes are often scattered around the globe, operating in ports, production plants, on construction sites etc. Some of these locations can be very remote, and communication infrastructure may be inadequate, e.g. with internet access blocked for this type of use, or even no internet at all. Also, there probably is no trained service personnel available onsite. These circumstances demand, that the crane and hoists manufacturers continually transmit operational data from the machinery to a centralized platform, via a globally applicable connectivity solution. The monitoring data presented on the platform then can be evaluated to ensure reliable operation. Recently, this challenge was taken up by STAHL CraneSystems, a world-leading German manufacturer of hoists well-known for its innovative solutions. In this setup the complex value chain of a crane solution plays an important role: STAHL CraneSystems supplies its sophisticated lifting gear to crane manufacturers, who install the cranes onsite at the end customer. An external agent then takes over the servicing of the lifting gear. Read more About the intelligent solution by STAHL CraneSystems.
Write to us – we will be happy to call you back and answer all your questions about our products.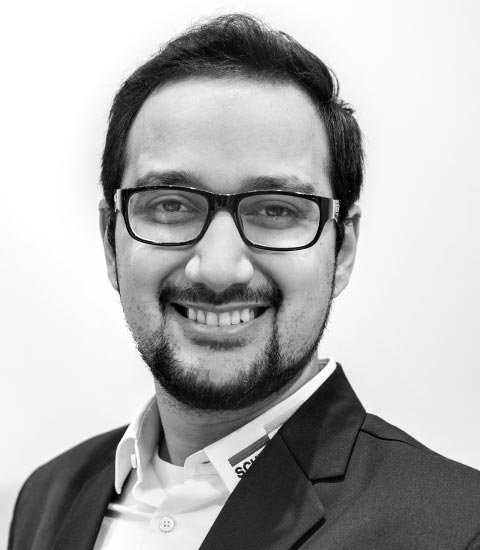 Zubair Khan
Industrial Wireless Expert
If you have any questions about our products, please do not hesitate to contact me.
Schildknecht AG - Datenfunksysteme