Crane technology has been experiencing a technological boom for years and thereby developed from a pure "lifting gear" to an automatic transport system for load of any kind and weight. Cranes have become an indispensable part of intra-plant material flows and production processes, focusing on metal and construction industry as well as on mechanical engineering and container construction or shipping (container transport) and waste treatment (waste sorting). This development has become possible thanks to the availability of increasingly powerful technologies of drive, communication and particularly radio technology. Amongst others, this has led to a close "application link" of radio systems and crane technology.
Economic and operational benefits of crane automation are opposed to highest requirements to availability, reliability and safety in daily operation: crane technology and radio technology are required to cooperate intensively here for ensuring safe lifting, transporting, lowering and putting down of even heaviest load e.g. in workshops or harbour facilities. This requires compliance with strict safety regulations, a challenge for drive and control technology and more particularly for data radio to which Schildknecht AG in Murr has been committing with a high degree of intensity for 35 years. A particular feature of this company is the equal status of innovative mechanical engineering and intensive application consultancy in the business model.
This cranes is automated by use of the radio data transmission system DATAEAGLE. The product family DATAEAGLE 3000 and 4000 for transmission of PROFIBUS and PROFINET is perfect for cranes due to its data pre-processing. PROFIsafe is possible too.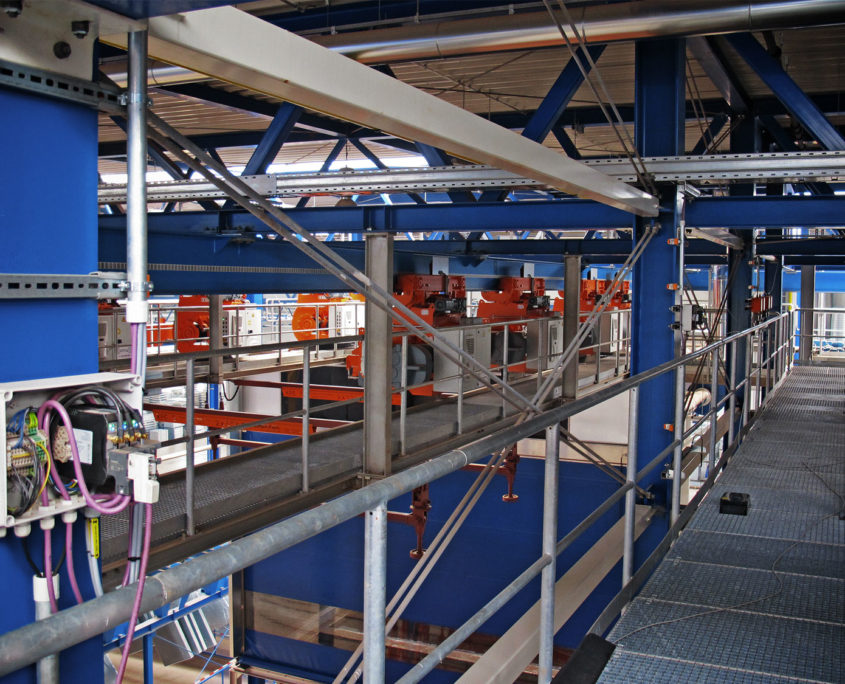 The DATAEAGLE Master functions as the base station and is mounted directly beneath the ceiling construction. DATAEAGLE radio systems are available as IP20 for DIN-rail (picture) mounting as well as IP65.
The crane trolley receives and sends data via the DATAEAGLE Slave. The maximum range between Master and Slave is 300m using Bluetooth as the radio technology.
The DATAEAGLE 3000-A series from Schildknecht AG for Wireless Profibus has been specially developed for the transparent transmission of Profibus DP using various radio technologies. The use of our patented filter technology guarantees a high-availability and reliable radio connection. All devices that have a Profibus DP interface can be connected by radio. Transmission speeds of up to 1.5 Mbit / s are supported.
The Dataeagle 4000 series for Wireless Profinet has been specially developed for the transparent transmission of PROFINET IO using various radio technologies. All devices that have a PROFINET IO interface can be connected by radio. The DATAEAGLE 4002 series also supports safety-related devices with PROFIsafe for PROFINET IO.
Radio Systems in a highly automated Galvanizing Plant
One of the characteristics of modern production automation is the use of crane technology for the transport of parts in the context of production processes such as the surface treatment of metallic workpieces by means of galvanizing …
Contact us we also give you a call back. Whether you have questions concerning Industrial Wireless using PROFIBUS or PROFINET, or M2M solutions our experts have many years of experience to support you finding the best solution.
Download: Flyer and Technical Data
Interesting links
Here are some interesting links for you! Enjoy your stay :)